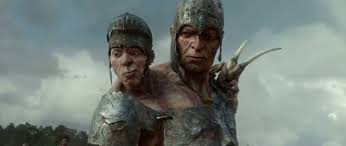 What Trouble Are Giants?
What trouble are the situations and circumstances that creep into our lives and threaten to derail us from the path we are on?
Is it a financial giant?  Expenses that seem overwhelming?  Or just not enough income at the end of the month?
Is it a health giant?  A sickness that has shown up and drastically altered your immediate life plans?
Is it a relational giant?  A sudden separation, or divorce?  Or a sudden break-up and an end to a relationship that was supposed to be the one?
Maybe it is a deal you have spent months working on that was supposed to be a huge success, but for some reason now the whole idea of it is being re-considered.
What ever the giants are in your life, they are giants that are common to all.  Everyone has giants of some kind or another in their life.  Sometimes the giants win the battle, sometimes we defeat them.  Going into battle with giants is a risky business, but gathering the resources around that you will need are of utmost importance.
Financial experts, doctors, tax advisors, teachers, coaches, pastors, etc. can all offer advice and coaching through the fight against our giants. Very few people can win the battles on their own simply for the fact that the giants we face our bigger than we can take on by ourselves. But working with someone else to help defeat our personal giants is so much more successful.
The video today is drawn from a song by the late Rich Mullins called What Trouble Are Giants.  It is a somewhat humorous take on the story of David and Goliath.  I love the light hearted nature of the song, but message still comes out strongly.
The ultimate line in this song is:
"It's more the size of who you put your faith in than the size of your foe."
The Giants in our lives can be overcome.