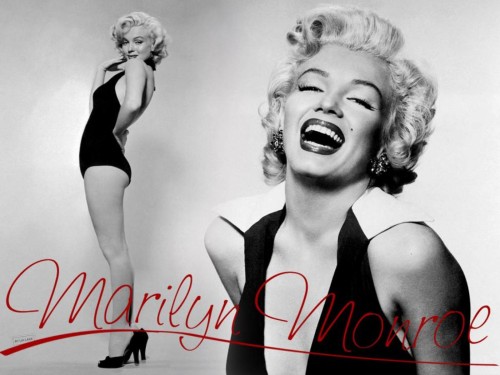 Today marks the anniversary of the discovery of Marilyn Monroe's lifeless body at her home in Los Angeles, apparently due to an overdose of sleeping pills. It was ruled a "probable suicide".
Marilyn Monroe was born June 1 1926 and spent much of her childhood in foster homes. In her late teens she began work as a model which led to a career as an actress in her early to mid 20's.
She was married three times: to James Dougherty in 1942 when she was 16 years old; to Joe DiMaggio in 1954 when she was 28; and finally to Arthur Miller in 1956 when she was 30.  All her marriages ended in divorce.
She had formed her own production company Marilyn Monroe Productions and starred in 11 films and was nominated for a Glolden Globe for her performance in Bus Stop.
Marilyn was initially made famous for her seductive looks, but she clearly had a lot of drive and determination and talent too. Although her death was ruled a "probable suicide" there is a lot of speculation that it was an accidental overdose or even murder.
What is most sad for me about this story, is that it is the story of a promising life cut short. Marilyn Monroe was 36 years old when she died.  36 year was all she had to make a difference in this world. Coming from a hard childhood and making something of her life is a great beginning of a story, but it shouldn't have ended there.  She should have been able to live to her seventies or eighties, leaving a philanthropic legacy behind.  Maybe setting up a charity for foster kids in her home state or something to that effect.  She should have been able to age gracefully and set an example for many of the young actresses coming behind her.
As a Life Coach I work with some people who have basically cut their dreams short.  They have given up on something for which they once had a lot of passion.  They have essentially allowed their dreams to commit "suicide".  I want to bring those dreams back to life and cause people to see the value, and importance of those dreams. I want people to develop the drive, determination and skills necessary to make their dreams a reality.  I want my clients to live for the future, not just the present. To look forward to something bigger than themselves. To leave this world a better place because of their contributions to their families, their communities, and their world.