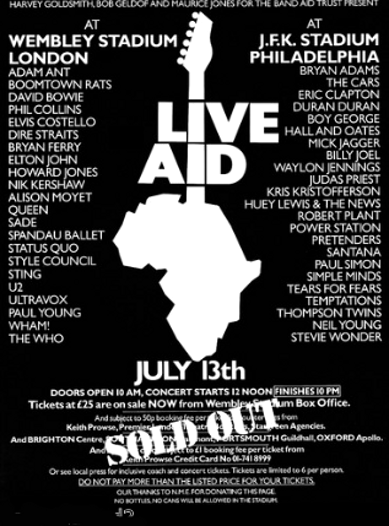 Today is the 30th anniversary of arguably the greatest music concert in history! Live Aid was organized for this date back in 1985 primarily by Bob Geldof and Midge Ure and was in response to Michael Buerk's BBC news report on the famine in Ethiopia. Besides the gathering and arranging of the music, the bands, the personalities, the venues, and the broadcasting of this event, what was most impressive about this whole idea was the central focus in raising money for the famine relief.  People gave of their time, talent, money and schedules to work together to make a difference in the world in their time and place! A lot of planning, organizing, connecting, and sacrificing went in to putting on this event which Geldof felt "should be as big as humanly possible". The results of this mammoth  concerted effort eventually tallied close to $245.4 Million in food for Ethiopia.  When people work together for a cause it is amazing what can be accomplished!
The idea that impressed me most about this whole event was that working together we can make a difference with our resources that would have a positive impact on the lives of others. While I was too young at the time of this event and too far removed (living in Jakarta, Indonesia) I remember the stories and news about this event and the people who made it happen.
There are a lot of causes, and organizations today that we can be a part of, bringing healing, hope and a new perspective to the lives of individuals who are suffering. What causes, tug at your heart strings? What inspires you to want to make a difference? What resources do you have that can address the needs of someone, somewhere else in the world? What sacrifices are you willing to make that could make this world a better place for someone else?  Part of getting you to your dreams and goals is stopping every once in a while to help others.  It is not a something that slows you down or diverts you from your intended course, but rather energizes you to keep moving forward.
For your viewing pleasure I am including a video of Queen performing We Are The Champions live at Live Aid 30 years  ago!