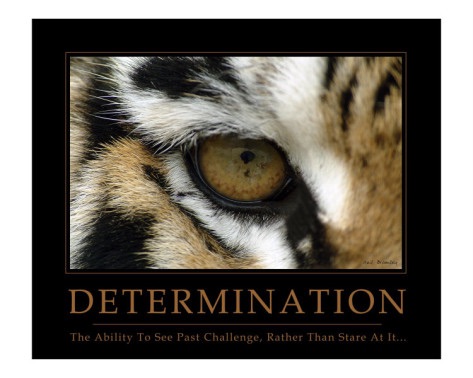 Today marks the 33rd anniversary of the release of Survivor's Eye of the Tiger. This song accompanied the Rocky III movie in the 1982 and was hugely popular in mainstream music. I love the name of the group and the theme of this song which is: fighting for Your dreams, not giving up or giving in. Some of my coaching clients are in a place where they have given up on their dreams. My role is to encourage, challenge and guide them to the point where they can realize their dreams. It is so exciting to see clients when they are working toward something they thought was out of reach, and now see is within their grasp.
Life often works against us and this song captures that message, but also tells us not to "lose our grip on the dreams of the past".  Realizing your dreams, achieving you goals, the both require a fight.  You need to want what's at the end of the road or you won't get there. There will be obstacles along the way, uncertainties, you will need to step out in faith at times, but keep your eye on the ultimate goal, and keep in pursuit of that and once you get there see where you can go next!
Read through the lyrics to the song here, enjoy the video at the end. Give me a call 425-737-9465 if you have given up on your dream and want to start pursuing them.  Check out some of the resources on my Guide Book page also, great books and links to other sites with tools to help you on your journey.
Have a great day!
Eye of the Tiger
By Survivor
Risin' up, back on the street
Did my time, took my chances
Went the distance
Now I'm back on my feet
Just a man and his will to survive
So many times, it happens too fast
You trade your passion for glory
Don't lose your grip on the dreams of the past
You must fight just to keep them alive
[Chorus]
It's the eye of the tiger
It's the thrill of the fight
Risin' up to the challenge
Of our rival
And the last known survivor
Stalks his prey in the night
And he's watching us all with the
Eye of the tiger
Face to face, out in the heat
Hangin' tough, stayin' hungry
They stack the odds
Still we take to the street
For the kill with the skill to survive
[Chorus]
Risin' up straight to the top
Had the guts, got the glory
Went the distance
Now I'm not gonna stop
Just a man and his will to survive
[Chorus]
The eye of the tiger
The eye of the tiger
The eye of the tiger
The eye of the tiger
Songwriters: SULLIVAN, FRANK / PETERIK, JIM
© Sony/ATV Music Publishing LLC, Warner/Chappell Music, Inc.
For non-commercial use only.