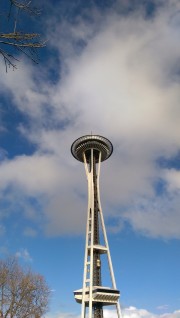 An interesting phenomenon came to me     again this past weekend while walking in Seattle. It seemingly takes longer to get somewhere when you are unsure of the location, than returning to your starting point. I spent the day in Downtown Seattle with my daughter for her 18th birthday. We arrived downtown early and spent the better part of the afternoon walking around before hitting the Pacific Science Center and an evening concert at Key Arena. Part of our journey took us to Everything Music (a local record store). The walk from where we parked to this location was approximately 2 miles. Although it only took us 45 minutes to get there, it really seemed longer than that in distance and time. Our return however seemed about half as long. For one thing we could see the Space Needle from quite a distance which is where we were headed, but we already knew the path, what it involved, and that it was achieveble.
Sometimes we don't follow our dreams because we are unsure of when we will arrive at our destination. We don't always know the path ahead and what it will entail. We can't always see the end either.
Coaching keeps you moving toward your destination. Gives you the support you need to navigate the path ahead and keeps the end clearly in sight.